2023 Sunshine Coast Open House event unlocks the Coast's most iconic buildings
Sunshine Coast Open House is a free community event which offers rare behind-the-scenes access to the Sunshine Coast's best buildings ranging from private homes, corporate buildings, heritage treasures and sustainable spaces. Enjoy meeting the people who design, build and preserve these buildings and celebrate the region's unique history, architecture and built form. The sixth annual Sunshine Coast Open House weekend will be held on Saturday 21 and Sunday 22 October 2023. It will showcase historic, contemporary and sustainable buildings from Caloundra to the Hinterland and Cooran.
Sunshine Coast Open House was founded in 2017 by the Sunshine Coast Council, Noosa Council and the Australian Institute of Architects (Sunshine Coast Committee). Since it was founded, Sunshine Coast Open House has received generous funding and in-kind support from the Sunshine Coast Council's Arts and Heritage Levy and other government, corporate and community organisations. In its inaugural year, Sunshine Coast Open House celebrated the 50th anniversary of the official naming of the Sunshine Coast. Since then, the Open House event has opened many architecturally diverse buildings each year for the public to tour. Sunshine Coast Open House also hosts a number of associated events, walking tours, and talks each year, including its annual Open Forum which focuses on topical, thought-provoking issues.
Here are just some of the iconic buildings that will be open for viewing.
For a complete list please go to the Sunshine Coast Open House website: https://www.sunshinecoastopenhouse.com.au/current-year/
City Hall - Sunshine Coast Council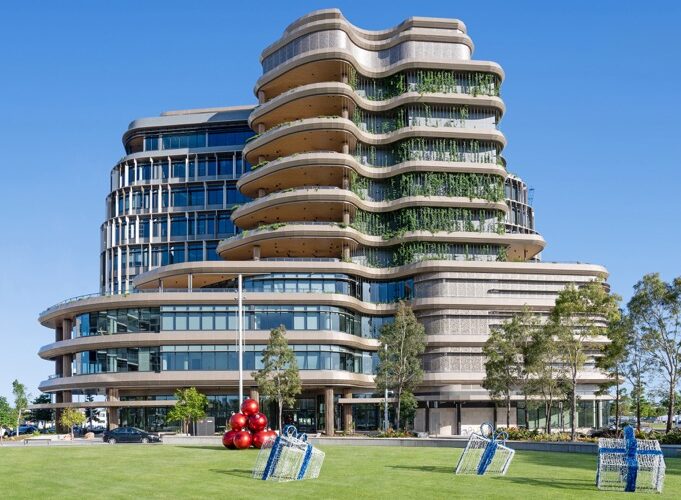 54 First Avenue, Maroochydore
Open: Saturday // 10:00 am - 2:00 pm
Tours: Saturday // 10:00 am, 11:00 am, 12:00 pm, 1:00 pm
Designed by Cottee Parker Architects with sustainability at its core design response, the new Sunshine Coast City Hall includes features that will reduce environmental impact and embrace the Sunshine Coast climate.
The building is intended to fit seamlessly into its built and natural environment and distinguishes itself as a landmark building in the new city centre.
The building is inspired by the forms and colours of the unique Sunshine Coast Glass House Mountains. The mountain and water themes flow from the exterior inwards to deliver a holistic and integrated experiential journey for residents, visitors and staff. The design provides a clear view of council chambers located on level one, providing transparency to the community of governance in action.
The projects vision sought to address key characteristics including strong governance, healthy work environment, economic opportunities, sub-tropical design, community connectivity, iconic form, sustainability and value for money.
Setting the standard for workplace design in Maroochydore the design establishes a landmark building that represents the Council's commitment to design excellence, innovation and sustainability.
Inspired by indigenous philosophies of connection to country, the design seeks to heal country with an experiential journey of spaces inspired by its surrounding landscape. Referencing the passage of waterways and erosion of land masses, organic interior forms shape spaces and ground the design in the past whilst speaking to the evolving future.
Fast Facts:
10-storey building
5-star Green Star Design and As Built accreditation target
5-star NABERS accreditation target
concrete with 40 per cent recycled bindings
100 kilolitre tank for rainwater capture to supply landscape irrigation
use of high-performance glazing to reduce solar loads


Bark Studio and Art Room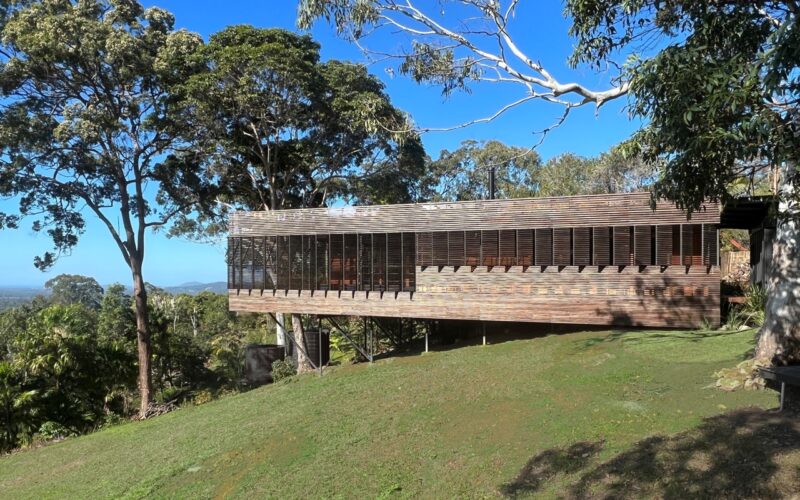 413 Sunrise Road, Tinbeerwah
Open: Sunday 10:00 am - 1:00 pm
Tours: Sunday 10:00 am, 10:30 am, 11:00 am, 11:30 am, 12:00 pm, 12:30 pm
Guided tours on the hour in Studio and on the half hour in the Art Room
Architects Stephen Guthrie and Lindy Atkin's brief for themselves, with the 'Bark Studio' (2001) and the 'Art Room' (2022), was to demonstrate their design approach and philosophies, whilst making an inspiring place to live and work. Bark Studio, commercial and the Art Room residential will both be open on the day.
Elevated as a modernist pavilion in the Noosa hinterland, the Studio is a modular structure of portal frames wrapped with glass on three sides and a plywood 'billboard' facing the road.
Twenty years on, the Art Room is a timber companion building, next to the award winning Studio. The name comes from its previous life as an art classroom for a high school at Toowoomba. As a 1970's prefabricated school building, it has been relocated and transformed with plywood lining and Blackbutt doors and cladding. The veranda and 'port racks' have been replaced with 1.3km of recycled hardwood battens as an operable screen, providing privacy and vistas, whilst celebrating the play of light and shadow.
The Art Room has inherent flexibility and adaptability to be configured as an event or meeting space, a work space, guest quarters or a small house.
Eye catching and memorable, this pair of buildings perches carefully on the hillside and generously frames a 'public' view of the Noosa coastline.
The Majestic Theatre, Pomona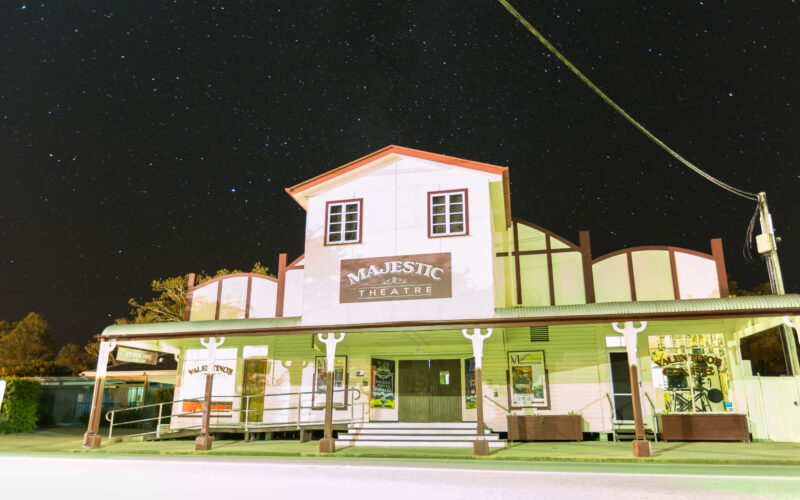 3 Factory Street, Pomona
Open: Saturday 9:00 am - 4:00 pm
Tours: FREE Silent Movie screening at 12pm with live organ accompaniment. Self-guided access with volunteer guides throughout the day.
The Majestic theatre is one of the few pre-World War II picture theatres remaining in Queensland that have not been demolished or adapted to other uses. It is also Australia's longest continuously operating picture theatre and the world's longest continuously operating silent film theatre.
The Majestic Theatre was originally built as a social hall with attached shops in 1921. Despite the building being extensively restored and refurbished in 2006, the timber and fibrous cement sheeted building is still a rare, and functional, example of a pre-World War II country hall that was converted into a picture theatre.
The hall was designed to serve several functions: to show silent movies, for vaudeville productions, and to act as a social centre for the town. Over time it served as a venue for dances, balls, concerts, and wedding functions, roller skating, boxing, and church services. Constructed of unseasoned milled hardwood, the hall was about 12 metres wide by 18 metres long, with seating for 198 people. It included a sprung dance floor of inch crow's ash timber, still extant today, and was raised on stumps to avoid flooding. In the mid 1920s a supper room was added to the long southeast elevation of the hall, and this section was later extended to the northeast.
The enduring appeal of the theatre building lies in its unique and traditional furnishings and fixtures. The Majestic Theatre is home to a 1937 Compton Organ which has recently enjoyed a six-year restoration. The organ, one of only four organs of its kind in the country, features over 750 bellowing pipes.
Koongalba Heritage Home, Yandina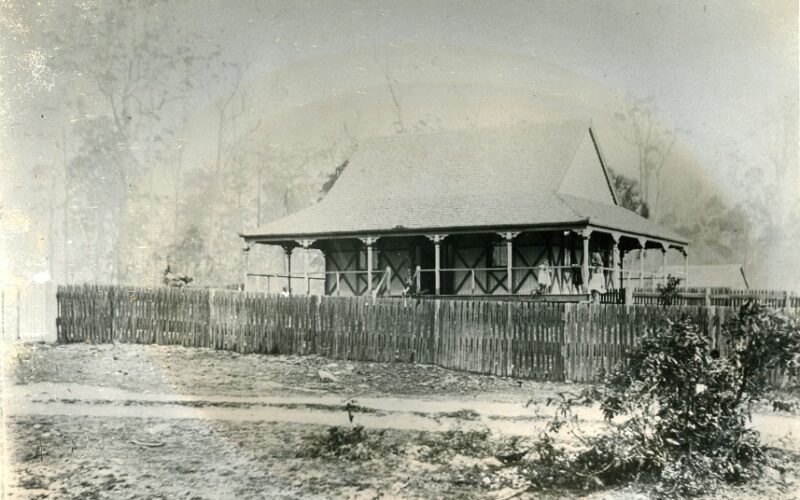 Bookings open on Thursday 5 October at 12pm
Open: Sunday 9:00 am - 2:30 pm
Tours: Sunday 9:00 am, 10:00 am, 11:00 am, 1:00 pm, 2:00 pm,
Tour Size: 12 people per tour Pre-booked self-guided tours (lunch break 12-1)
Koongalba was built in 1894 by William Andrew Grigor for John and Louisa Low. John was a timber-getter and sourced the timbers locally floating them down the Maroochy River to William Pettigrew's Maroochydore Sawmill. The sawn timber was then returned by pontoon and brought to the site by bullock wagon. Fittings such as doors and windows were purchased from Pettigrew's Brisbane catalogue. Detailed records exist of the building of the house including Grigor's total payment of £23.4.8.
Of late 19th century style, the house has single skin walls with cross bracing; the roof was originally wooden shingles; four verandahs surrounded four central rooms with an open walkway to a separate kitchen and store room. Early photos show acroteria giving a pagodalike effect.
Koongalba is built on part of Portion 4 selected by James Low in 1868. Large bunya pines, camphor laurels and mango trees, planted by the family, remain. John and Louisa Low had nine children, the youngest was David Low, MP for Cooroora and past chairman of Maroochy Shire Council. He was the third generation to serve in local government. In 1970 Jim and Audienne Blyth, a Low descendant, purchased the house and have endeavoured to preserve it.
Caloundra Lighthouses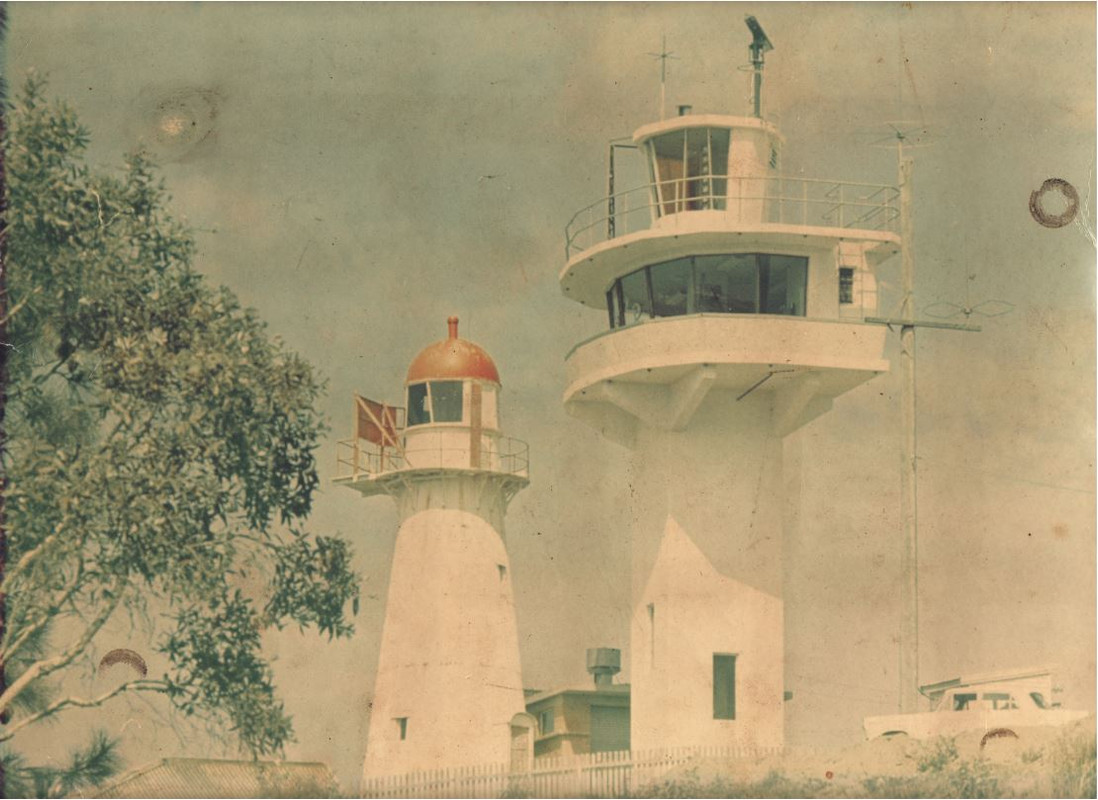 Lighthouse, 3 Canberra Terrace, Kings Beach
Open: Saturday 10:00 am - 4:00 pm
Tours: Rolling guided tours Tour Size: 6 people per tour Tour Tip: 30 minutes approximately per tour
Architect: 1896 Lighthouse - Cullen (Engineer) // 1968 Signal Station - Queensland Department of Harbours and Marine
The 1896 lighthouse was constructed with a timber frame and corrugated iron cladding, a construction type unique to Queensland lighthouses. In 1968 it was replaced by the Signal Station, Light and Radar Installation, a reinforced concrete structure. The two sat side by side until 1970 when the 1896 lighthouse was relocated to Golden Beach. It remained there for 29 years. After the Signal Station was decommissioned due to changing technology, the 1896 lighthouse was restored to its original position. It is Caloundra's oldest building.
The Caloundra Lighthouses mark the entry to the North West Channel, the main shipping route into Brisbane. There are spectacular views to the shipping channel, Moreton Island and the Glass House Mountains. Caloundra's European history is closely linked to the story of the lighthouses, and the two buildings provide evidence of the history of lighthouses from both ends of the time scale.The Caloundra Lighthouses mark the entry to the North West Channel, the main shipping route into Brisbane. There are spectacular views to the shipping channel, Moreton Island and the Glass House Mountains. Caloundra's European history is closely linked to the story of the lighthouses, and the two buildings provide evidence of the history of lighthouses from both ends of the time scale.
10am - 4pm (no booking required)

The Wheel House, Maroochydore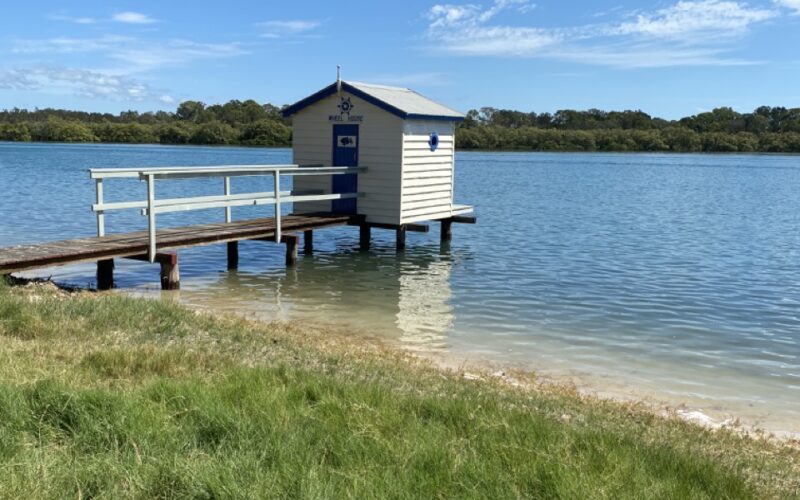 165 Bradman Ave, Maroochydore
Open: Saturday 10:00 am - 2:00 pm
Self-guided tours with volunteer guides in attendance
Tour Tip: 10 minutes per self guided tour
The iconic Maroochy River Boat House has just been meticulously restored, using traditional methods by the Buderim Men's Shed. The project which took place over four years is finally complete, much to the joy of the owners and the community at large.
This boat house is one of five privately owned, heritage listed, boat house structures on Bradman Ave and all are considered significant pieces of Maroochydore history. The buildings were constructed between 1940 and 1970.
The character Boat Houses are well loved and are highly visible on the river when entering Maroochydore. They act as an aesthetic identity for the bustling coastal town and are often captured in wedding shots and dramatic sunset photography.
This building was constructed in 1965 and after weather damage and recent vandalism was in desperate need of restoration. The owners partnered with the Men's Shed, Council, and the Department of the Environment and Science, to restore, preserve and ensure the longevity of the iconic Boat House for all to visually enjoy.
The difficult project was subject to the tides, availability of specialist materials and trades. The restoration work was carefully undertaken by twelve members of the Buderim Men's shed. It was guided by a specialist heritage building advice report, and structural advice from a character builder specialist.
The owners would like to celebrate the wonderful refurbishment works undertaken by the Men's Shed. They would also like to thank Cr O'Pray for establishing a way forward between the authorities and providing specialist advice to get the project underway.
Council added the five remaining, iconic boat houses to the local heritage register in August 2020, to elevate their status and retain the character buildings into the future. Council is committed to protecting significant cultural heritage places, so they are preserved for future generations.
Buderim Men's shed is one of the biggest in Australia with over 300 active members. They undertake a range of fantastic community projects while helping members with health, wellbeing and social inclusion through interest-based activities.
This project is a wonderful example of community collaboration to preserve our regions history.
Work on the building was guided by Geena Sheer of Virtus Heritage.

You can book all tours on the Sunshine Coast Open House website: https://www.sunshinecoastopenhouse.com.au/current-year/

Sunshine Coast Open House is part of the Open House Worldwide family – a network of 30+ Open House cities globally – and is presented by Sunshine Coast Council, Noosa Council and the Australian Institute of Architects Sunshine Coast Regional Committee. It receives support from the Sunshine Coast Council Cultural Heritage Levy.

Visitors will enjoy discovering long-kept secrets behind some of the region's iconic buildings thanks to a number of renowned Sunshine Coast architects and informed volunteers holding special guided tours.

People wishing to volunteer or learn more about Sunshine Coast Open House can visit www.sunshinecoastopenhouse.com.au