Rail Links, Higher Densities Figure in Sunshine Coast's Future
The Sunshine Coast Council is preparing to welcome 520,000 new residents by 2041, identifying sites for development and a new rail line.
Creating a "community of communities" is the approach the council is taking shape the region's future while reducing the number of Local Planning Areas from 27 to 18 in the proposed Sunshine Coast Planning Scheme 2041.
Along the coast there will be "focus areas of increased density-height along key corridors and in nodes" close to centres along with transit stations.
There were also opportunities for additional industrial land around business hubs and existing commercial zones.
The proposed vision also discusses a mass transit system along the coast from Maroochydore to Caloundra as well as a rail line linking Beerwah to Caloundra and on to the airport.
The areas of the region to experience the biggest change in development activity would be around Australia Zoo, the Sunshine Coast Airport, Caloundra and the emerging university communities in Palm View and Sippy Downs.
Increased investment and development in Maroochydore has already started with the $2.5-billion agreement with SunCentral and Walker Corp.
Beerwah East was also expected to become a hub of new development as "a range of small - and medium-sized centres may emerge" in the medium to long term.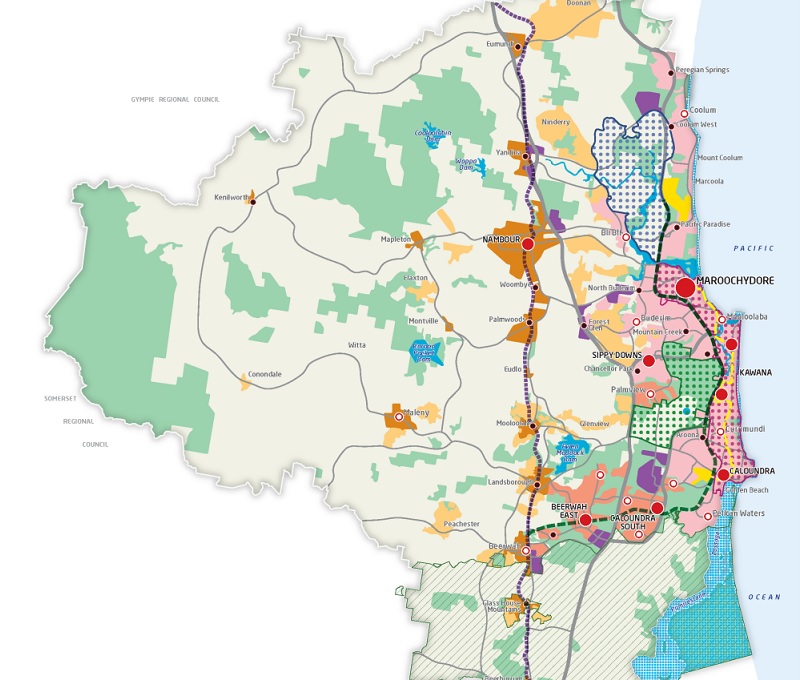 ▲ New communities were identified in Beerwah East, Caloundra South and Palmview in the Sunshine Coast Planning Scheme 2041.
"Mixed-use residential development is encouraged in centres, particularly in Maroochydore and the major centres of Kawana [comprising Kawana Town Centre and Kawana Shopping World], Sippy Downs, Caloundra, Caloundra South, Beerwah East and Nambour," the 2041 scheme proposal said.
"A network of mixed-use, transit-oriented centres provide a focus for growth in business, residential and community activities."
Preparation for the Sunshine Coast Planning Scheme started in early 2021 and is now in the community consultation phase but could take another three years to be adopted.
During the pandemic the Queensland holiday hotspot became the top location for interstate buyers leaving cities to take advantage of remote working policies and lifestyle options.
It has been estimated the region needs a new suburb every year for the next two decades to keep up with demand.
The Sunshine Coast was the second highest performing residential market of the past 12 months with prices increasing 34.4 per cent, according to Corelogic's latest home value index for January.
This was just behind the Southern Highlands and Shoalhaven at 37.6 per cent and ahead of the Hunter Valley, excluding Newcastle, at 34 per cent.
This compared to combined capital city dwellings which increased 22.4 per cent and set a 32-year record for house price growth.