Who is driving up demand for Sunshine Coast properties?
We've seen that since the pandemic, there has been no greater importance placed on the home. Working and living in the same space has led many to reevaluate options, and paired with cheap interest rates and increased government support, many have taken the chance to upgrade their homes or expedite their decision to relocate to Queensland where they can enjoy a more balanced way of life.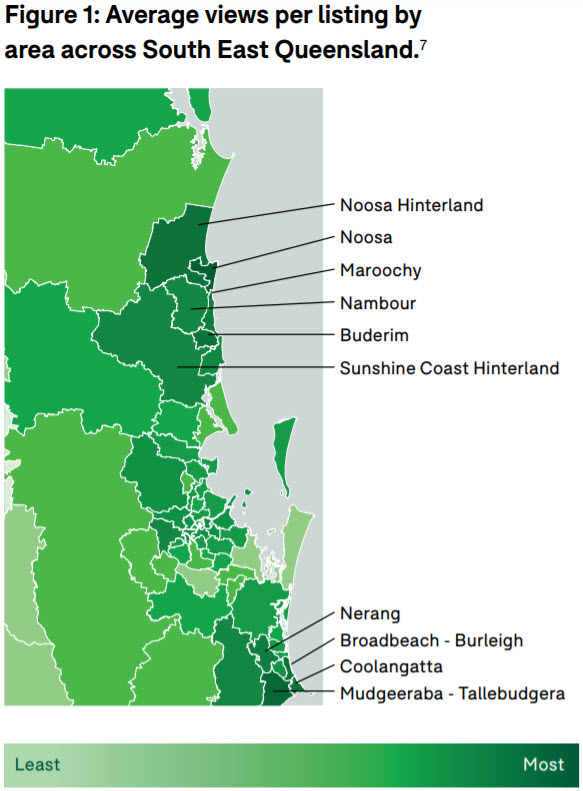 By looking at the average number of views per property listing on Domain we can see the areas potential buyers are most interested in. The top 10 areas in hot demand are all in the Gold Coast and Sunshine Coast, with Noosa taking the top spot for the most in demand area.
"We know Queenslanders love the coast and we're seeing this shine through with beachside regions topping the charts of most sought after areas. More populated areas in Queensland have always been in demand, however, a population shift is seen as a result of the pandemic, driving a social and lifestyle movement as more city dwellers relocate into regional parts. The Sunshine Coast is an enviable spot to call home, offering over 60km of stunning coastline, boundless natural beauty, and a laid-back lifestyle, all of which are key attributes that make our region so appealing." James Ruprai, Sunshine Coast Council, Group Executive Customer Engagement and Planning Services.
Who is driving demand in Queensland?
Home loan data allows us to identify who is buying and therefore driving demand for property. Figure 2 shows that at the beginning of Covid-19 there was a dip in the value of home loan financing across all buyer types as the national lockdown hindered transactional activity. This created uncertainty surrounding job security and also economic instability. However, the bounce back and acceleration was swift across all buyer types.
Some interesting statistics from the Domain report:
66% of enquiries on Domain to Queensland are coming from New South Wales

People in the prime of their working years (25-44 years) are the biggest interstate group moving to Brisbane

Relocation to the rest of Queensland, outside of Brisbane, is led by Gen X followed by Millennials, and Boomers.
Paul Arthur, CEO, Queensland Sotheby's, observed: "There is a significant shift in population from city to regional Queensland led by people in the middle-age bracket (45-64 years). Those in this pre and early retirement stage are fast-tracking their plans, shifting towards regional areas with sprawling landscapes and more space around their homes."
"Often experiencing urban life in their younger years, trend analysis suggests that this age group prefers to move to rural and coastal areas of Queensland for a slow-paced and relaxed lifestyle to enjoy with their families."