Unveiled: Final Stage of the Sunshine Plaza's $440 million redevelopment
Thousands of people lined up for the unveiling of the final stage of the Sunshine Plaza's $440 million redevelopment today.

Customers who battled the crowds were treated to the following:

- Official ribbon cutting with Mayor Mark Jamieson at 8am at Centre Court
- 70 new stores opening, including David Jones, H&M, Sephora and MECCA
- Free gift bags for first 100 customers at David Jones
- Q&A and selfie opportunities with Jett Kenny at David Jones at 10.30am
- Free takeaway coffee with purchase at David Jones
- First 100 Big W customers received a $20 gift card
- Free beverages and touch-ups at MECCA in line from 10am
- First 100 people in line at H&M received a free goodie bag

The Sunshine Plaza now boasts the only David Jones and H&M stores in the region, as well as a new Big W and over 100 additional speciality stores including MECCA, Sephora, Seed Heritage, JB Hi-Fi, lululemon and Kathmandu.

The total expansion adds 35,000 square metres of retail space to the existing centre and will see Sunshine Plaza become the first super-regional* shopping centre north of Brisbane.

"Sunshine Plaza now has some of the biggest national brands and most sought-after specialty stores, so locals no longer need to travel to Brisbane for their ideal shopping experience — everything they need, and more, is right here." Gary Horwitz, Lendlease Managing Director of Retail.

"We set out to transform the centre into an exceptional destination where our customer experience extends well beyond just retail – and we've exceeded our own expectations." said Gary Horwitz.

The full list of new retailers opening this week include:

Majors and Mini Majors
BIG W
David Jones
H&M
JB Hi-Fi
MECCA
Rebel
Sephora

Specialties
Adairs
Baku
Bed Bath N Table
Bupa Optical
Commonwealth Bank
Connor
Country Road
Czarina
Eats
EB Games
Endota
Forever New
Honey Birdette
House
Johnny Bigg
Kathmandu
Kidstuff
Little Sparrow
Lululemon Athletica
Midas
Motto Motto
Natures Nails
Nguyen Bros
Portmans
Review
R.M.Williams
Roti & Buns
Seed Heritage
Sheike
Skate Connection
Sushi Frenzy
Swarovski
The Athlete's Foot
Valleygirl
Volcom
Wheel & Barrow

Coming Soon
Aje
Caffe Cherry Beans
Calvin Klein
City Chic
Cotton On
G Star
Liberty Hair
Pazar
Pineapple Express
Polo Ralph Lauren
SES
Sportscraft
Supre
Tommy Hilfiger
Sunshine Plaza will be the site of H&M's twelfth store in Queensland, with the new store spanning approximately 2,700m2 and set over two levels.

"We are excited to announce that our new store at Sunshine Plaza will be opening on the 28 of March" said Thomas Coellner, Australian Country Manager for H&M.

"Our customers are number one and we are looking forward to finally introducing the H&M brand to the Sunshine Coast and meeting our new customers on opening day".

FAST FACTS:
• Number of new tenancies: 114 (44 in first stage of new mall; 70 in stage two opening)
• Total number of retailers now at Sunshine Plaza: 276
• Total number of stores post-development: 345
• Total square metres: ~107,000sqm
• Total number of parking spaces: almost 5,000
• Total investment for redevelopment works: $440 million
• Number of construction personnel onsite daily during development: 370 (as at Jan 2019)
• The high ropes adventure course will open mid-2019

*A super-regional shopping centre is defined by Shopping Centres Online, Property Council of Australia as a major shopping centre typically incorporating two full line department stores, one or more full line discount department stores, two supermarkets and approximately 250 specialty shops. Total gross lettable area retail exceeds 85,000 square metres.


UPDATE: October 2018

The first retail stage of the $420 million redevelopment opened to the public on Thursday 15 November, in time for Christmas shopping.

The opening revealed a fully refurbished Myer and a range of exciting new brands such as Harry Hartog, Tigerlily, T2, Politix, Secrets, Charcoal and Bras N Things.

In addition to new brands opening, some existing retailers will relocate to the new mall as part of development works, taking the opportunity to introduce their latest concept fit-outs to Sunshine Plaza.

A number of existing centre upgrades were revealed, including the refurbished Food Court, interior ambience upgrades and a custom made internal kids play area with a nautical theme and the addition of new custom seating areas at the bridge link on the ground level. Two new food and beverage offers have opened opposite the kids play area.

The centre will also open more than 200 new parking spaces in the Myer rooftop car park, with direct access into the new mall.

The second and final stage of the redevelopment is set to delivered before Easter 2019, whcih will feature the region's first David Jones, a new Big W, approximately 60 specialty stores and new alfresco dining along Cornmeal Promenade.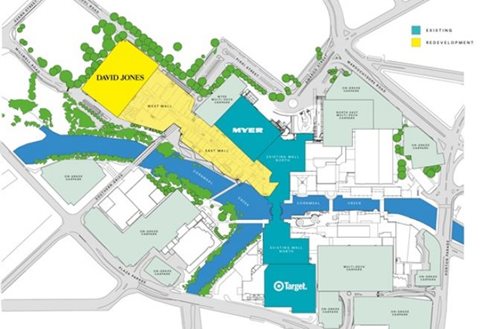 Outdoor waterfront dining and leisure precient along Cornmeal Creek will further enhance the 'indoor / outdoor' experience at Sunshine Plaza.

Subject to DA approval, it is anticipated the High Ropes course will also be delivered before Easter 2019.

Works on the external Riverwalk precinct will continue both pre and post-Christmas, revitalizing the boardwalks with new covered walkways, enhancing landscaping, installing a new water feature and additional customer rest zones.
Sunshine Plaza Flythrough - November 2017 from Sunshine Plaza on Vimeo.

The final expansion will see centre expand from 73,000 square metres to over 107,000 square metres becoming the largest retail centre north of Brisbane.

The enhanced retail mix will include the region's first David Jones department store, a new BIGW, a fully refurbished Myer, over 100 new specialty stores and provision for large format fashion operators, bringing highly sought-after fashion brands to the Sunshine Coast.
The redevelopment will also include car parking improvements to ensure convenient access, with two new multi-level car parks and over 1400 additional new car spaces, taking the total number of spaces to nearly 5,000.
Redevelopment highlights:
• Over 34,000sqm of additional retail space
• Over 1,400 additional parking spaces including two new multi-level car parks, taking the total number of spaces to nearly 5,000
• A new 8,000sqm David Jones department store
• A refurbished Myer
• A 6,500sqm BIG W
• A new high ropes course, incorporating 10 ziplines*
*subject to DA and authority approvals

On completion of the redevelopment in early 2019, customers can enjoy the new super-regional shopping centre with the region's first David Jones, H&M, a new Big W, Cornmeal Promenade dining precinct and over 100 specialty stores, bringing highly sought-after fashion brands to the Sunshine Coast.